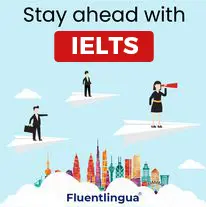 IELTS coaching in Surat | IELTS classes in Surat
Course Description
IELTS MASTERY a surefire way to success in IELTS
What is the duration of IELTS Classes near me?
50 hours of intensive coaching
IELTS Fees in Surat:
8,000/- only IELTS (for those who are already fluent speakers of English)

16,000/- General English + IELTS (for those who need proper grounding in English)
Why we are the best IELTS Coaching Center in Surat?
You perhaps already know that the IELTS examination tests your English level for entry into a foreign university. IELTS Examinations are held every month at various places in India and abroad. Many candidates do not get their desired band score despite their good academic performance in their fields of study. Some of them fail to achieve their goals because of poor guidance and wrong practice. If you want to avoid such frustration in the future, read on. We at Fluentlingua have created a unique IELTS Mastery course to help you fulfil your dreams. Which makes us one of the Best IELTS coaching in Surat.
Well, admission to our IELTS Mastery course will be decided after a diagnostic test and/or online counselling. If a student is not a reasonably fluent speaker of English, it is advisable that he does our Fluentlingua foundation course/s such as English Ahead, English Edge or English Premier before preparing for the IELTS examination.
Our comprehensive 50-hour course, which is conducted in small groups will thoroughly prepare you for the IELTS examination. Personalised one-to-one IELTS coaching is also available at an additional cost.
By the way, the following is what you are supposed to do to score well on the test. Our trainers will help you to do each of the following at our IELTS classes in Surat which brings us amongst the top 10 IELTS coaching in surat
Listening:
Listen to authentic English on BBC or any other British channel or podcast because a large part of the audio material for listening is based on British English. The more you tune yourself to this variety of English the better will be your confidence and performance during the test.

Do intensive listening for say a couple of minutes, i.e., try to listen to and catch each and every word. It is advisable to write it out, and compare it with the transcript if available. Listening to just the gist is fine for your day-to-day requirements but not for such tests.

Listen to different varieties of English such as British, American and Australian so that you are comfortable with different English accents.

Listen to a variety of English programmes such as talks, discussions, documentaries and presentations so that you get used to listening to connected speech and are able to decipher normal, natural, spontaneous, fluent fast speech.
Reading:
Read a lot. The more you read the more you learn.

Read a variety of texts such as magazines, newspapers, stories and novels because you never know what kind of text you are likely to get in your test.

Speed is crucial in any language test; more so for IELTS. Increase your reading speed by practising the techniques of skimming and scanning. Get to the gist, the heart of the message, as quickly as you can. Learn the techniques to do that.

Learn to identify and underline keywords. Here, the larger the vocabulary you possess the faster and with more comprehension you can read.

Master using the context and the co-text to guess at the meanings of unfamiliar words in the passage. It is impossible to master all the words in the English language, but with an overall large vocabulary, you can make out what unfamiliar words mean in the passage.

Sequencing and organising are two features good writers master. Note how signposts or signal words are used in the passage to achieve coherence.

Read from the writer's viewpoints.
Writing:
Understand the topic and the task. Do not start writing before planning.

Brainstorm the topic for ideas. A few seconds of letting your brain flow freely will help generate good enough content to write on.

Prepare an outline containing key areas you intend to cover.

Arrange your main ideas into a sequence and then flesh them out with additional ideas.

Use one idea per paragraph–a sound strategy.

Don't exceed the word limit.

Proofread your writing. Everyone usually makes mistakes in the first draft. Don't worry. Look for typos or grammatical slips. Edit ruthlessly.

Make sure that you do everything within the time limit.
Speaking:
To learn to speak, you need to SPEAK. It's as simple as that. Practise speaking as often as you can according to the test format.

Time your speech. Have a feel for the time limit.

Your examiner is going to be an excellent, and trained, the user of English. To prepare for the test, talk with people who are better than you at speaking English. Be prepared so that you aren't stunned when you take the actual test.

Clear speech pays. Improve your diction. Do mouth gymnastics under supervision to improve your clarity.

Silence is as important as sound. Pause at appropriate places while speaking. Give the listener a chance to assimilate what you are saying.

Use the right intonation—the up and down in the pitch of your voice.

Listen carefully and understand the question before answering.

Practise mock speaking tests with friends.
Please note that the listening test and the speaking test are common to both Academic and General Training Modules.
For more information about how to prepare for the test, please visit this link https://www.youtube.com/watch?v=4TrhNSWbuDY and then get back to us if need be.
Course Info
Course Level:

Intermediate

Duration:

50 Hours